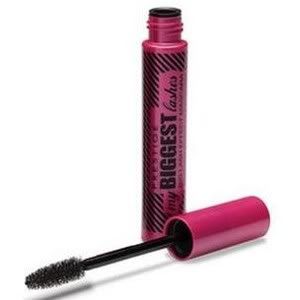 hey everyone!
so today's post is a review of the prestige my biggest lashes mascara!
i got this in that mammoth prestige hauling sesh i went on when it was all on offer (i did a post on it!) and i've been trying all the products since then. this has definitely got to be one of my favourite items that i got that day!
Firstly, this mascara makes your lashes SERIOUSLY long, and when i say long i mean long. i've tried the colossal and falsies by maybelline and all that but this blows them out of the water! its got a massive brush so not only does it lengthen, but it volumises the hell out of your lashes!
when i don't wear eyeliner (which i must say, isn't very often) i pile this stuff on and put loads of coats on because even without eyeliner it draws attention to your eyes. but when i wear eyeliner i don't put as much on, maybe 2 coats and it's still really good. it's very adaptable to your needs - if you want really long volumised lashes or not so dramatic you can get any look with this mascara!
i got it on offer, but the price of it is £3.24 which is bloody brilliant if you ask me!
this totally gets 10/10, 5* and an A+++ from me!
any requests? leave them below
thanks for reading!
maddie xx